India No one PV Solar Entrepreneurship, Professional and Corporate Training Provider.
Prime Minister Narendra Modi's aggressive push for 'Make in India' to bolster domestic manufacturing and make its economy 'self-reliant' in the post-pandemic era is a welcome opportunity for India's solar energy sector. While India's annual demand for solar cell manufacturing is 20 GW, its current average annual capacity is just 3 GW. India was one of the largest exporter of the best-in-class modules until 2011, with domestic manufacturers, including Bhel, Tata Solar, Moser Baer, Indosolar and Lanco, pioneering the industry.

In the value chain of solar PV manufacturing that involves polysilicon, wafer, cell and module assembly, most Indian companies are engaged in later processes of module assembly. As the process of manufacturing demands a multi-tiered work force with specialised skill sets such as design and manufacturing engineers, building system specialists, modelers, and assembly line workers, analysing skill gaps at each level of the value chain and devising focused capacity building measures will be a key step.

India is evolving a strategy of not using Chinese equipment and technology in the power sector, and subsidising finance for promoting local power equipment usage and prior-permission requirements for imports from countries with which it has a conflict. Atmanirbhar Bharat Abhiyaan has certainly opened up a huge opportunity for India's solar ambition.

Institute of Solar Technology (IST) helping Indian startups to skill-up for self-reliant.
PV Solar Techno commercial Training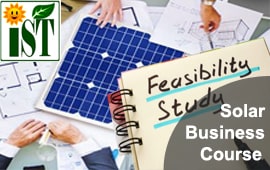 Online Advanced Certificate

in PV Technology & Business Management

This course covers

technical details

needed to assess potential residential, commercial PV projects and to present accurate proposals. Discussed in detail: safety, site analysis,

design, performance, costing, subsidy, financial-benefit

analyses, financing options ...

Admission going on
PGP in "Renewable Energy Project Finance"
10 Months PGP in "Renewable Energy Project Finance"
personal leadership education collegiate course. Certification offered by Institute of Solar Technology (IST) in academic partnership with University of Petroleum and Energy Studies.
The courses hosted on IST are in 4 quadrants –
(1) Live video lecture, one to one interaction for clearing the doubts.
(2) Previous Video Class, Practical Session Video,
(3) e-book, IST E-Library and
(4) Project and case study submission,
(5) online examination.
Project Development -
(1) Biomass Power Projects
(2) Wind farm developments
(3) Solar Rooftop and MW Project
(4) Project Costing and Pre-feasibility
(5) Project Finance Analysis
Call for Admission
Rating:
Tag:
solar, pv, photovoltaic, renewable energy, solar pv training, PV System Design, Grid, PV software, Installation, course, net metering, hands-on practical, training, RE, home lighting, water pump,
Quick Inquiry Form
PV Technology & Business Management
Talent + Training + Teamwork = Startups Entrepreneurs Success Way
Talent:
Successful entrepreneurs are definitely born with traits that help them succeed. But it's rare that anyone is born with very high levels of all talents. If someone is born without a lot of natural entrepreneurial talent, support and development will help that person. Those with lower levels of talent will still benefit from support and development, but they likely won't achieve that same level of success.
Training:
The best way to learn is by doing. Through our structured, step-by-step curriculum of training and challenging business-building assignments, you become as the Founder of an enduring company.

First, attaining a deep level of knowledge, expertise and skill in a particular field could help lead to the start of a more sustainable, high-growth business.
Teamwork:
IST is a collaborative ecosystem, where people of all skill sets, backgrounds, and experiences share ideas, best practices, metrics, and feedback. Why? Because helping each other and sharing expertise leads to faster iteration, more efficient innovation, and faster market growth. So no matter how great the idea and how impatient the entrepreneur, IST can help build the basic skills, knowledge and connections people need to start something of value.